About Budds

SOPHISTICATED EUROPEAN TECHNOLOGY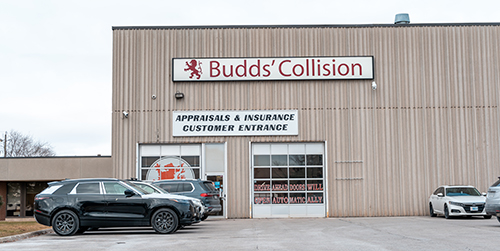 Since 1983 Budds' Collision has provided the most sophisticated European technology. From the initial computerized accurate estimate, to the most precise measuring system, and the finest factory finish painting techniques; the finest European automobiles are restored to their original pristine condition.
Today's vehicle designers face some competing demands; they need to reduce fuel consumption and polluting emissions, but still recognize that consumers love sport utility and other large vehicles. One solution is obvious, but challenging; find a way to reduce the weight, and thus the fuel consumption of vehicles without sacrificing size.
As aluminum is increasingly being used on vehicles on the road today, proper training is becoming even more important to have vehicles repaired properly after an accident. Vehicle owners should select a collision repair facility that has the current technical training to understand how to work with the lighter weight materials and changing vehicle design.
Budds' Collision is an authorized repair centre for all of our Budds' family dealership vehicles and several major insurance companies. We are experts in collision repair knowledge and technology including: analyzing the damage, structural repair process, corrosion protection, steel and aluminum welding, matching your vehicle's paint finish, and checking safety features such as airbag deployment, seatbelts and anti-lock braking systems.

PPG REFINISH TECHNOLOGY
In searching for a paint that meets the demands of the Budds' family and our customers, Budds' Collision chose PPG. "We switched to PPG back in 2013 and have never looked back. With the continued development of more complex colours by OEM's, PPG has proven to be a valuable partner. PPG has continued to provide support so we can deliver the level of quality our clients have come to know and expect - along with a lifetime guarantee on all repairs. " - J.R. Martino, General Manager/Vice President
Initially introduced in 1999 to meet low VOC legislation, the ENVIROBASE® High Performance system is now the leading premium waterborne paint system in North America. Delivering everything high-production collision centres need, the Envirobase High Performance waterborne system achieves outstanding colour match for today's OEM finishes and provides easy to use products for improved cycle times.

Envirobase High Performance products are not only included in the PPG Paint Performance Guarantee, they are also backed by the Good Housekeeping Seal. No longer just a basecoat colour platform, the Envirobase High Performance system provides a suite of undercoats and clearcoats that integrate flawlessly with its advanced waterborne basecoat, providing best-in-class colour accuracy and durability.

BUDDS' GROUP OF COMPANIES
Budds' is a name that is synonymous with quality service in Southern Ontario.
In fact our motto "the family business that service built" is a testament to the commitment that our family-owned shops have been providing to each and every customer since we opened in 1973. There are two parts to the car business: cars and business. From the Budds' perspective, the business is enjoyable but it's the cars that are the stars.
Our sales consultants are professional, honest and dedicated to servicing you throughout the life of your vehicle. Our sales team has a deep rooted knowledge of our products, customer expectations and the ability to handle all of your automotive needs.